Hawaii Spa Association Highlights "Aloha" In the New Normal
Advertisements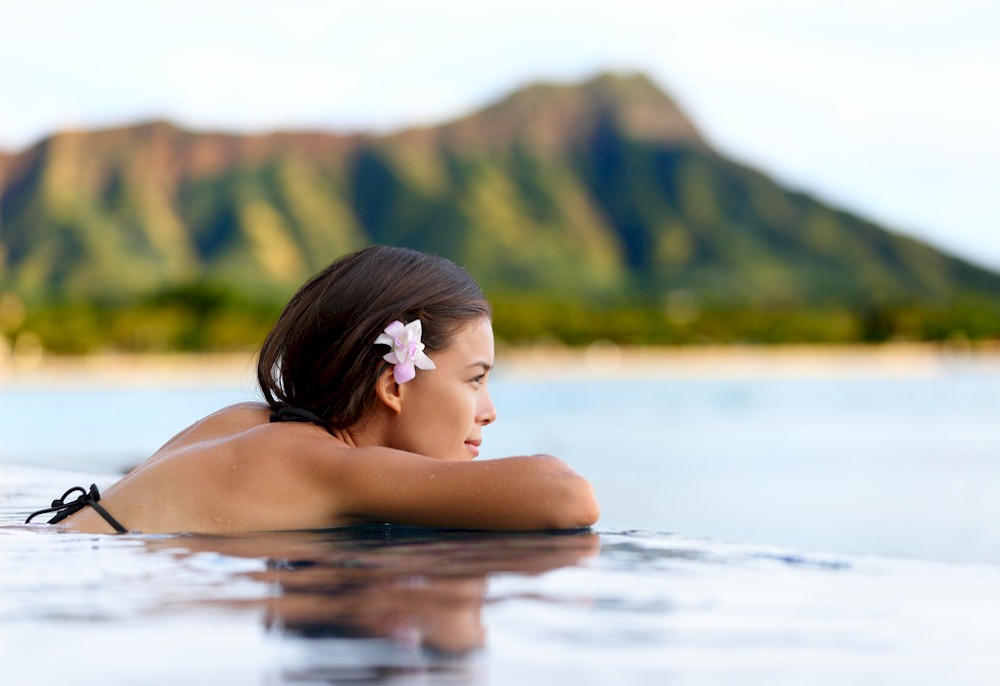 In 2004, Spa Directors from some of the most well-known facilities across the Hawaiian Islands met in Oahu to form a collaborative organization now known as the Hawaii Spa Association (www.hawaiispaassociation.com ). The Hawaii Spa Association (or Hi-Spa for short) is a non-profit entity created to elevate awareness of Hawaii's significant role in the World Leisure and Wellness Market.
By using our cooperative efforts like networking, shared ideas, and unparalleled expertise, Hi-Spa has positioned itself the go-to source for our local spa operators, vendors, and educators.
HI-Spa is run by a diverse volunteer Board of Directors, each of whom are leaders for businesses that also carry a membership with us.  As President, I've had the privilege to spend a lot of time with our Board over the past few months to create re-opening guidelines for association members. We've debated extensively on the different ways spa and other wellness-centered businesses will need to adjust operations to meet the demands of the "new normal."  
We're all in agreement that keeping our community connected and united is of the utmost importance, as the vast majority of the hospitality workforce remains furloughed or unemployed. Now that the end of our lockdown is in sight, Hi-Spa has been hosting a series of educational workshops that have included industry experts and open forums for our members.  These workshops have been an incredible opportunity for us to share advice, tips, and bits of relevant information that will help our members re-open their doors while maintaining our famous "Aloha Spirit" in the world that has been forever changed.
Hawaii has always been a spiritual place. Our unique host culture is saturated with a diversity of heritages that have their roots in a variety of rich philosophies. The state's natural beauty complements the spiritual nature of Hawaii's traditions, offering the perfect atmosphere for an inner pilgrimage. A vacation in the Hawaiian Islands is the opportunity to unwind, unplug, recharge and refresh, and more people than ever are seeking out wellness programming when traveling.
In Hawaii, nature and healing are considered one and the same. Travelers have long sought Hawaii's curative climate, therapeutic salt-waters and even the mythic healing power of our volcanoes to restore health and balance in their lives (as stated in gohawaii.com ).
Along with being unrivaled in nature, Hawaii has some of the world's best spas, with the year-round balmy weather, lavish facilities, and plenty of opportunities to connect with the host culture. Each island has its own distinct personality; what you're looking for determines where best to go. A destination spa in Hawaii, for example, will guide you on a path to developing a healthy lifestyle through relaxation, rejuvenation, lifestyle modification, education, and more. 
Smaller local spas entice spa-goers with indigenous treatments delivered by staff trained by the ancestors of Hawaii's ancient healers.  Resort spas may combine both destination and local elements so that guests have both luxury and flexibility.  No matter which spa you choose, you are assured distinctive experiences with local flair – this makes Hawaii spas very different from densely populated urban spas without cultural roots.      
2020 Wellness Predictions before COVID-1
According to the Global Wellness Economy Monitor, produced by the nonprofit Global Wellness Institute (GWI), the worldwide wellness industry expanded 13% and estimated health and wellness travel was expected to increase 43% (to $808 billion) from 2015 to 2020. Other spa entities like American Spa Magazine, Skin Inc Magazine, Eminence Skin Care blogs and MindBody wellness trends survey predicted at the beginning of 2020 that Halotherapy (salt),  Arctic Cryotherapy (cold), Virtual Reality, CBD, and Pre-flight Spa-ing (Airport spas) top the charts as what to expect at your next visit to the spa.
Also, the revival of ancient remedies like guasha, the use of psychedelic plants to help achieve greater awareness, circadian health mental wellness (sleep), energy medicine, wellness sabbatical, and wellness music, were also trending to be the top trends for this year.
2020 Wellness Predictions after COVID-19
According to Forbes magazine, people post-pandemic are now more focused then before on new ways to mindfully thrive. After being through a forced halt on the busy day-to-day, the perspective on what is truly important for our wellbeing has been drastically shifted from consumer items to real wellness benefits and experiences. A service or product that can actually provide the mind and body real, healthy results versus something that is just "less harmful" is what will be on the uptrend. On top of everything else, emotional wellness has already seen a current spike in popularity before COVID, but post-pandemic it will be more important than ever with the rising numbers of post-traumatic stress and heightened anxiety.
As Hi-Spa President, I'd like to thank the Hawaii wellness community for staying connected with the Hi-Spa team each week since the start of the COVID-19 pandemic. We strive to stay connected and involved (while staying healthy) during this momentary pause in our working and social life, and continue to focus on sharing advice and information to help with the eventual reopening of our businesses.
With that I'd like to segue to Hawaii Spa Association's Education Director Shawn Hallum's role and our new Education Page that was launched this year to support our wellness community. This page is where you'll find go-to resources and nuggets of invaluable information.
"Education has never been more important for spa professionals – in fact, it is the bridge that will connect us to success in the "new normal."  I've been so inspired by my industry colleagues, many of whom have openly shared what they've learned over the past few months to promote the strength of our industry collective.  We're sharing research, new protocols, and marketing strategies – the things that we previously used to maintain a competitive advantage are now guaranteeing the future of spas in Hawaii and around the world.
Hawaii's spa leaders have been very engaged in training efforts for the front line – massage therapists, estheticians, other spa associates who will implement the enhanced cleaning, disinfection, and related sanitation procedures required to operate.  We're also committed to maintaining our aloha mindset, which includes an unwavering belief that we're all connected and that everyone – visitors and locals alike – must be cherished and protected." 
– Shawn Hallum, Hi-Spa Education Director
Most of Spa Directors in Hawaii have been furloughed with no access to their work emails or global network, including even those within the Hi-Spa board. We decided to keep our members and any other wellness professional connected by creating the "COVID-19 Reopening Guidelines for Spa & Wellness Facilities" along with our Navigating Together weekly video series where we do "HI-Five" interviews asking industry professionals the top five questions that need answers during this pandemic. You can find this downloadable document along with the video series on Hawaii Spa Association's new Education & Resources page.
As an example of our HI-Five interviews, I asked Hawaii Spa Association Vice President, Jennifer Holzworth answer the top five questions.
1. How will the new normal change the way we do business?
"Now more than ever communication will be of the utmost importance, both for our associates and guests alike. We will need to instill confidence and continue to uphold the highest standards. The biggest challenge will be to continue to provide high levels of personalized service and genuine comfort and care for our guests while incorporating additional levels of safety and sanitation to ensure both associates and guests feel safe."
2. What advice do you have for our members as they plan to re-open their businesses?
"Over-communicate. Have a solid plan in place and ensure all members of your team know, and understand the big picture plan as well as their individual role in its success. Utilize the resources you have, including your vendor partners, fellow colleagues in the industry, state board and local publications to be sure you have the most up to date data to make informed decisions. Learn from those in our industry that have already opened in other areas of the country on best practices and things that can be improved upon".  
3.  How do you think we can maintain the aloha spirit were famous for in the new normal?
"I think we already are showing that Aloha has not gone anywhere, in fact it is thriving more than ever. It is not about giving a hug and a kiss when you greet someone but rather how does that person feel after an interaction with you, whether for 30 seconds or 3 hours….  As I circulate through the island, it is comforting to feel the aloha spirit alive and well. Our community in the islands, and more specifically the spa community has come together even closer during this time to unify and collaborate to better our industry, not work in silos and against one another. I am grateful to live here and experience this every day."
4. What's the biggest lesson you have learned during this time?
"I have learned that all the little moments matter and to be grateful for them all. I've learned that it's ok to feel sad and angry and guilty, as well as happy and grateful and excited for what's to come. To allow myself to step back and be ok with how I'm feeling in that particular moment and acknowledge it as well as acknowledge that others around me are going through the same emotions and support them however I can".
5. What have you been doing to stay mentally, emotionally and physically well during this time?
"I have been spending a lot of time on things that I always said I never had time for; spending time working on myself and taking time for me. We as spa professionals are natural givers and sometimes forget to acknowledge and address our own needs. I have been re-igniting my love and passion for painting, finishing books that have been left half read for months, spending time outside and enjoying this beautiful playground we call home, and most importantly spending time staying connected to people." 
"Certainly, in Hawaii we have the opportunity to embrace nature and be able to offer more in the open air outside. I think the world needs wellness more than ever right now! How we execute our healing will definitely look and feel different, but our touch will be felt even stronger. I envision increased engagement with our communities and guests through the use of virtual methods, as well as a reinvention of more simplified and individualized services including one on one energy, meditation, and yoga practices."
– Amanda Schmiege, Hi-Spa Secretary
"In our spa world, we now have some significantly increased challenges, with all the added Personal Protective Equipment (PPE); gloves and masks and face shields and wiping down of equipment and enhanced sanitation procedures, etc. If one makes an analogy to travel, one always thinks of the exciting destinations and experiences of culture and food and music etc. of a particular destination. Going through airport security lines or customs and immigration and baggage claim are all necessary facets and the hassle one has to go to before you can enjoy the destination. We accept that. 
PPE and sanitation enhancements are now the new normal that the guest will have to go through when visiting our spas. This can elicit anything from fear, apprehension to just plain-but-necessary hassle. The way we can overcome it and still keep guests coming through our doors is through Aloha, and despite all these new measures we will have to take, we need to project a genuine warmth and smile behind the masks and face shields. Before we can take care of our guests, we need to be able to take care of each other – with Aloha."
– Darryll Leiman, Hi-Spa Treasurer
In conclusion, Hawaii hosts an array of well-recognized brands of hotels and resorts. The concept of wellness in hospitality quickly evolved to encompass so much more than the average fitness center or traditional spa in Hotels and Resorts; and within the past decade, the definition of wellness became a central factor in the hotel sector. Resorts and Hotels not only in Hawaii but globally have been leading the wellness movement for years with their mesmerizing spa facilities and now they continue to support their employees and shine through diversity. I wanted to highlight a few amazing things that they are doing during the pandemic:
Four Seasons Hotels and Resorts, has entered into a collaboration with Johns Hopkins Medicine International, to validate its new global health and safety program, Lead With Care, and provide ongoing, real-time guidance on the evolving COVID-19 situation.
Through the Hilton Workforce Resource Center, Team Members are being given direct and, in some cases, expedited access to more than 500,000 temporary jobs at more than 30 leading companies including Amazon, CVS, Albertsons, and Walgreens. Hilton hopes to expand this program globally and welcome Team Members back when travel resumes.
Marriott International Inc.'s CEO spoke to employees, many of whom would be furloughed, and pledged not to take any salary for the rest of the year, along with his executive team taking a temporary 50% pay cut.
Montage International announced the Montage International Associate Relief Program. While the company has provided health-care benefits to its associates, this new program provides even further support to associates across all properties in the Montage Hotels & Resorts and Pendry Hotels & Resorts portfolio.
To be honest, I believe these are the most difficult times I have experienced over my 25+ year Spa career; but I have the utmost faith and confidence that we will prevail by being true to our priorities, staying connected, taking personal responsibility, relying on each other and deepening our commitment to face this adversity together.
HotelExecutive retains the copyright to the articles published in the Hotel Business Review. Articles cannot be republished without prior written consent by HotelExecutive.